Sheet Metal Fabrication Birmingham
4 Fabrications Ltd was incorporated in 2001, since then we have earned a reputation for producing high-quality sheet metal and fabrication work. Delivering to clients throughout the UK, our sheet metal fabrication Birmingham facility is well equipped to execute every project to perfection. Products are manufactured to customers drawings to the highest standards. 4 Fabrications Ltd is renowned for providing excellent customer service and adapting to customer's requirements.
Regardless of the size of a project, be it a one-off or batch work, 4 Fabrications Ltd offer the same personal service and guarantee of quality. Our expert team use their skills and extensive experience in the trade to produce a wide range of high precision sheet metal and fabrication work with an excellent finish. We are focused on providing a quality service at a competitive price. 4 Fabrications Ltd is focused on achieving project deadlines which we believe are vital to the success of our customer's businesses.
4 Fabrications Ltd work with various metals including stainless steel, aluminium, mild steel, and in a range of thicknesses, grades and finishes. We work closely with our customers to transform their drawings and designs into solutions using a blend of knowledge and proficiency. When required we offer our solutions to improve upon their designs and solve problems.
Located in Hockley, Birmingham our factory is ideally situated close to the Midland motorway network enabling us to supply throughout the UK using our own transport or via a courier service.
Regardless of the size of a project, be it one off or batch work, 4 Fabrications offer the same personal service and guarantee on quality. Our experience and skills in the trade enable us to be competitive on price and focused on project deadlines which we believe vital to our customers.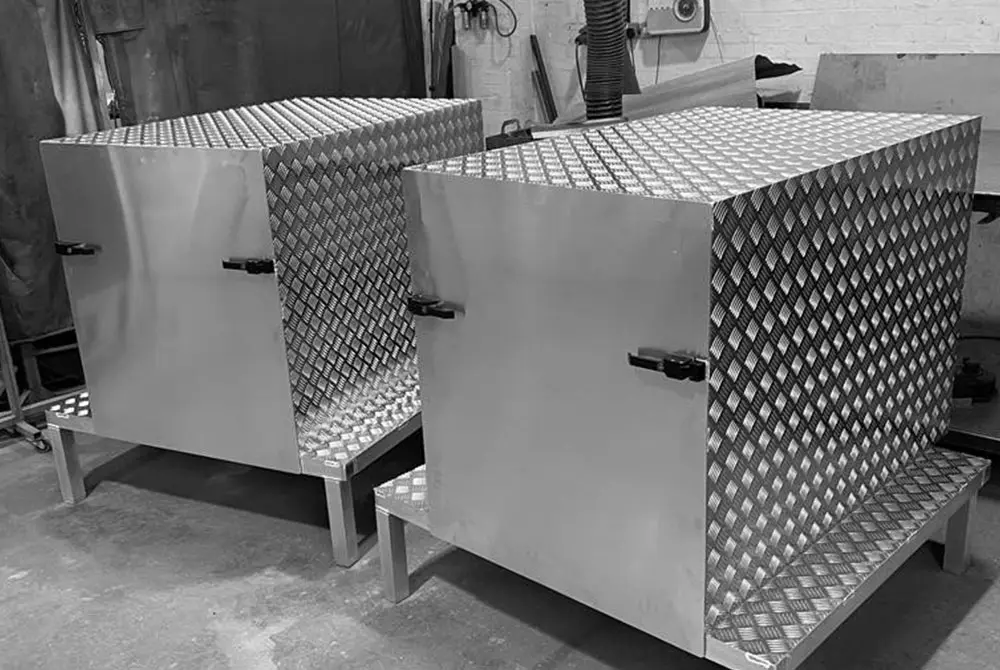 Testimonials
I have dealt with 4 Fabrications for many years and found the service and quality to be of the highest standard. We recognise 4 Fabrications as a professional team, with an outstanding level of craftsmanship. 4 Fabrications are not just fabricators, but highly skilled sheet metal workers with the technical know how to overcome the most difficult challenges we often give them. A very friendly and highly motivated company.
Neal Hickman
Managing Director (Nelstar UK Limited)
We have used 4 Fabrications for our bespoke requirements from small formed brackets to 3m fabrications in mild steel and stainless steel and found the quality of workmanship to be very good and the delivery times to be as quoted. Communication with the staff was quite easy and responses were detailed and informative.
We have dealt with 4fabrications for the past several years in which time we have found their workmanship to be of high quality. Quotes are provided in a timely manner and are always competitively priced. Lead times on components are adhered to and deliveries of finished products are always suitably packaged to avoid damage. The staff are friendly and approachable and go out of their way to help in anyway possibly being it getting a component out ahead of schedule in an emergency or delivering fabrications to alternative sites.
Sam Clarke
Layton Technologies
Sheet metal fabrication in Birmingham
If you are looking for professional sheet metal fabrication company in Birmingham, that not only services Birmingham, but also supplies throughout the UK, 4 Fabrications Ltd have many years of experience in sheet metal fabrication, working for a wide range of industries. We offer a complete range of services including welding, folding, profiling and shearing to commercial customers across the region and throughout the UK. Our sheet metal fabrication Birmingham service is a complete 'one-stop shop' and all parts & components are finished to the highest standards, quality and workmanship. We work closely with all our customers to ensure our results are exactly what they need and have come to expect.
Over the years our reputation has grown and we are now known as being the go-to company for sheet metal fabrication Birmingham service.